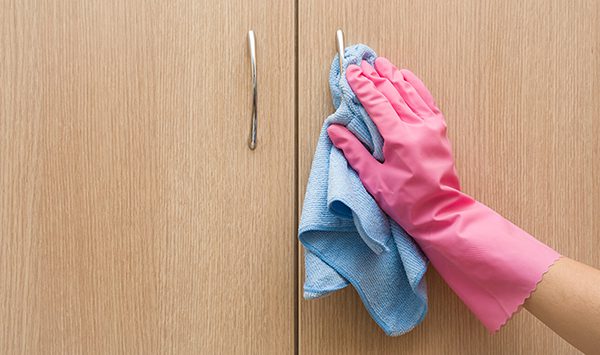 You've just completed a great looking kitchen renovation. These tips from Keystone Wood Specialties' Finishing Department will help your client keep it that way.
BEST PRACTICES
Never allow finished wood surfaces to come in contact with dishcloths, sponges, scouring pads, steel wool or any powdered cleaners. All of these can scratch the finished surface.
Keep countertop appliances with heat (toaster) or moisture (coffee-maker/espresso maker) out from underneath finished wood products.
Eliminate direct contact with liquids, as excessive moisture exposure will cause permanent damage. Draping dishtowels over the front of the sink will drip water onto the doors and into the panel groove, causing the wood to swell and the finish to crack.
CLEANING
Remove residues with a soft, lint-free cloth and mild detergent (Murphy's Oil Soap is recommended) and warm water. Squeeze all water out of the cloth before applying to finished wood surfaces. Use light pressure to prevent altering the sheen or creating glossy spots.
Polishes are not recommended, as they tend to build up over time and may affect the sheen, color or appearance of the finished product.
Keystone Wood Specialties' Finishing Department offers a variety of professional finishes services including applications such as paints, stains, full and accent glazes, weathering and antiquing effects. Learn more…