A simple cabinet door can be customized over a million different ways by specifying different edge profiles, panel raises, framing beads, or finishes. Customizing a door is a matter of seven basic choices.
Most of our Drawer Fronts can be customized using the same options shown above.
For example: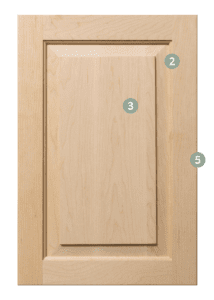 1. Door design: SRP-10
2. Framing bead: Traditional
3. Panel type: regular raise
4. Wood species: select white maple
5. Lip/edge profile: Q-2 edge
6. Finish: unfinished
7. Additional option: bore for European hinges

Learn step by step how to customize your doors using Keystone's website
---
MULTI-LITE AND FRAME-ONLY DOORS
Nearly all Keystone doors are available as multi-lite or frame-only doors. For most designs, the mullion profile matches the framing bead. Some exceptions apply. For more designs, visit our Mullion doors page.
---
CUSTOM REQUESTS
Don't see what you want? No problem. Keystone specializes in one-of-a-kind custom designs. Visit our Custom Requests page for more information.
Customer Service
800.233.0289  |  info@keystonewood.com
Call anytime Monday through Friday, between 7:00 am and 5:00 pm, and you will be greeted by a live, knowledgeable customer service professional.