At Keystone, we pride ourselves on providing everything you need to do what you do best. That includes materials to help you sell to your customers more effectively. Call customer service at 800.233.0289 for more details and to order any of the items below.
---
Refacing Sales Kit
Sales aids are available individually or as a kit with a sturdy carrying case.
4 Doors (Feature Doors or Selected Unfinished Sample Doors)
Moulding Chains
Starter Color Chip Chain
Veneer Samples
Catalog
Carry Bag
The price for your kit will be based on the options you include.
---
Door Samples & Color Blocks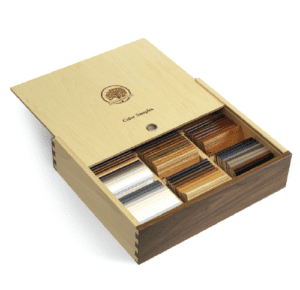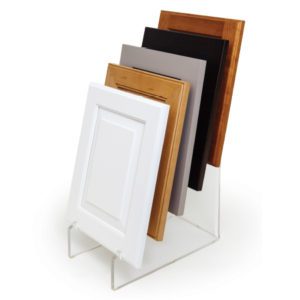 Order samples of our cabinet doors, as well as color blocks showing all of our fine finishes. Also available are displays and carrying cases to make your job easier. Visit the Door Samples and Color Samples pages of our website for more information.
---
Cutting Boards
Cutting boards are a nice way to say thank you to your customers, and with your logo engraved in the corner, you'll leave a lasting impression of your work.
Cutting boards feature an edge grain design with a grooved channel around the perimeter.
Made from random species, repurposed material.
Standard size is 10" x 14"
Note: Cutting boards do not have feet. Logo laser engraving is a separate cost.
Customer Service
800.233.0289  |  info@keystonewood.com
Call anytime Monday through Friday, between 7:00 am and 5:00 pm, and you will be greeted by a live, knowledgeable customer service professional.