Helping You Do What You Do Best
Who We Are
Keystone Wood Specialties Inc. is a wholesale manufacturer of wood components for the custom cabinet, furniture, and remodeling industries. Our manufacturing plant is located in Lancaster, Pennsylvania.
When you call Keystone, you will always be greeted by a live, knowledgeable customer service professional. Whether you have a question about our products, need assistance placing an order, or need to discuss an existing order, our staff is here to ensure that you and your customers are completely satisfied.
From rough lumber in our large selection of wood species to a fully equipped finishing department, Keystone has everything you need to complete your custom project. Whether you want one door or one thousand doors, you can choose from a wide selection of designs or create one of your own. We pride ourselves on one-of-a-kind custom orders.
Our Story
Keystone Wood Specialties president Sam Stoltzfus got into woodworking as a young boy. Having grown up the son of an Amish farmer and carpenter, he liked tinkering with wood and mimicking toys that his great-uncle Levi made. In 1972, at the age of 21, he founded his then one-man shop in Ronks, PA.
Sam would make the cabinets, getting his doors from a supplier, and his father, along with his brothers and a friend, would install the kitchens. If you ask Sam about the early years, he will proceed to tell you numerous stories of the good times he shared with his grandfather, also a farmer and carpenter, while making deliveries to customers.
From the beginning, Keystone Wood Specialties has been committed to making the highest-quality products. In 1977, Sam purchased machinery to begin making his own doors. Shortly thereafter, he began making doors for a few local cabinetmakers. From there, he saw an opportunity to grow into manufacturing cabinet components and stopped making cabinets altogether.
In an interview, Sam mentioned, "That was a big switch, because it was like starting all over again. It was tough going for a couple years, to bring everything to the quality level we wanted." And they did—Keystone's quality continues to rank among the highest in the industry.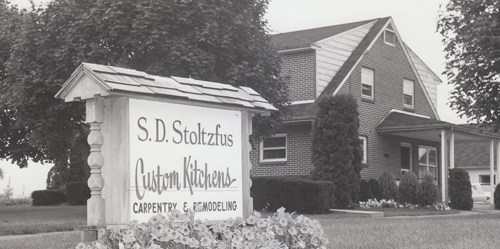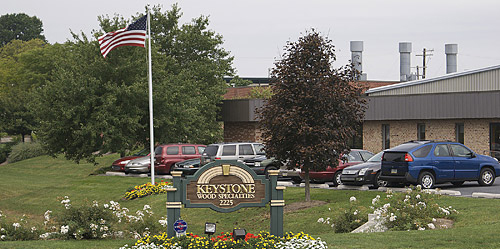 In 1984, Sam, along with about a dozen employees, moved into the current building on Old Philadelphia Pike. Keystone continued to grow its product line and was among the first to offer dovetailed drawers and to cater to the refacing industry. Over the years, there have been several additions and improvements to the existing building and workforce. As the next generation learns the trade, Keystone will continue to focus on providing the highest-quality cabinet components—including finished or unfinished doors and drawer fronts, drawer boxes, face frames, wainscoting, moulding, and more.

Our Tradition and Values
At Keystone Wood Specialties, what we do goes beyond the business of manufacturing quality custom cabinet components. As we have developed our product line and responded to market forces over the years, we have never lost touch with the traditions and values of our rural Pennsylvania heritage. The mission we live by has always been the hallmark of our part of the country: If we work hard, listen, pay attention to the details, and maintain a high respect for craftsmanship and quality, we will forge lasting relationships with our customers and friends. These values stand the test of time—they never go out of style.
We like to think we share those values with our customers—cabinetmakers and remodelers whose businesses aren't based on volume, but on pride of workmanship and in crafting cabinetry and woodwork with enduring character. The tools and technology of our trade have changed a great deal over time, but the rich heritage that defines the art of fine woodworking remains the same. 
Our commitment to you is that we will do our best to provide the best customer service and the highest-quality products we possibly can every time. Keystone is here to help you do what you do best.
Our Leadership
Sam Stoltzfus

President/CEO

Sam is the owner and founder of Keystone Wood Specialties. In addition to leading the company, he enjoys going through the shop daily and talking with employees.

Nick Stoltzfus

VP of Operations

Nick is Sam's youngest son and is responsible for the daily operations of Keystone, including production and customer service. Nick is also involved in R&D and project management.

Cyndi Johnson

Senior Accountant

Cyndi is responsible for all accounting and financial aspects of the company. She loves numbers and spreadsheets.

David R. Landis

Safety & Compliance Coordinator

As head of the Safety Committee, Dave is responsible for maintaining and improving safety in the workplace. He also leads the human resources and maintenance departments.

Christopher Rohr

Customer Service Manager

Chris is responsible for leading the customer service team. He enjoys building strong lines of communication with his team and with customers.

Bob Lehman

Production Manager

Bob is a thirty-year veteran of the company and oversees the entire manufacturing process. He has an excellent work ethic and is extremely knowledgeable about the industry and production processes.

Jennifer Rader

Marketing Manager

Jenn is responsible for all marketing and communications initiatives. She thrives on the creative process and the development of new marketing initiatives and product releases.

Dan Ober

Sales Manager

Dan is always on the go—making deliveries to customers, attending trade shows, or just getting out to visit clients. As he is on the front lines with customers every day, Dan also works closely with marketing and R&D to keep on top of the latest trends.
Our Product Guarantee
Unless otherwise specified, all Keystone doors and drawer fronts are guaranteed as follows for five years from the date of our invoice:
Warping
All single panel doors up to 24″ wide and/or up to 48″ high (or long) are guaranteed against warpage of more than 1/8″. All multiple panel doors up to 48″ wide and/or up to 72″ high (or long) are guaranteed against warpage of more than 1/4".
Panels
All door and drawer front panels are guaranteed not to split or crack.
Rails & Stiles
All rails and stile joints are guaranteed against glue failure. Joints are not guaranteed against hairline cracks from normal expansion and contraction typical of solid wood.
Mitre Joints
Mitre joints are guaranteed against glue failure. Joints are subject to slight opening and closing due to normal expansion and contraction typical of solid wood.
Wood Grain Color and Pattern
All wood is guaranteed against any structural defects. Grain and color are to be reasonably close to industry standards, unique to the tree it came from, and not "rubber stamped" like imitation wood grain found on printed melamine and other man-made materials. (Please see Wood Species Specifications in our latest price or color catalog.) Products where the grain and color matching of the natural wood is not acceptable to the customer will be replaced at the customer's expense.