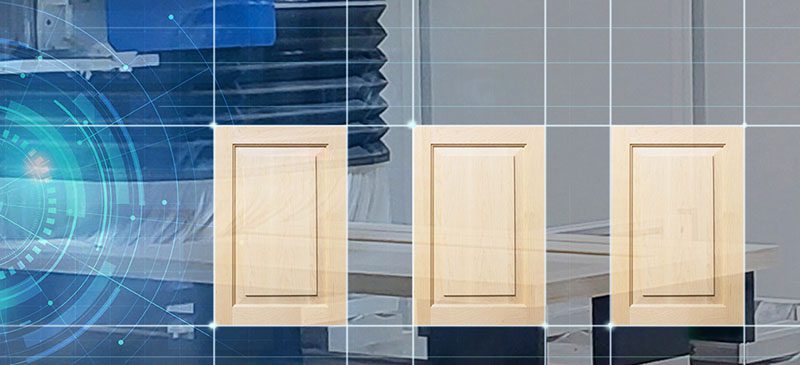 Quality has been the cornerstone of Keystone Wood Specialties for the past 50 years.
We know the quality of our products is a top priority for you, and it is for us too!
We've taken a big step forward in providing you with an even higher level of quality with the recent installation of a BACCI Edge Profiling CNC.
This new technology is industry leading in creating perfectly square and sized doors and drawer fronts. You will be able to achieve clean lines and door spacing on inset, full overlay, and frameless jobs, without needing to make adjustments.
The new BACCI will hold tolerances within 1/64" and can accommodate components up to 98″.
See a perfectly sized and perfectly square door in the making.
---
We will be processing the majority of our doors and drawer fronts through the BACCI, with a few exceptions. 
Mitre doors / drawer fronts with a "stock" or "beaded" edge profile.
 Min size: 3-5/8" x 5-5/8" (no back lip) or 4" x 6" (with back lip) – exception: Pine or cedar doors / drawer fronts under 11-3/4"
L-shaped doors.
Finished thickness over 1"
MDF or Pro-Cor doors
No Lip / Edge Profile
When not all sides are lipped, there are some configurations that are not programmed to run on the Bacci. The more popular options, such as Lip 3 Sides for Susan doors, is available.
Doors with extended stiles
Doors with ship-lap options
Mitre doors used for lazy Susan.
Custom edge profiles
Over 98"
Frame width under 1-1/8" (no back lip) or 1-1/2" (with back lip)
See our Wood Door & Drawer Front Guarantee
Please see our Wood Doors & Drawer Fronts Guarantee for information on how expansion/contraction can effect sizing.