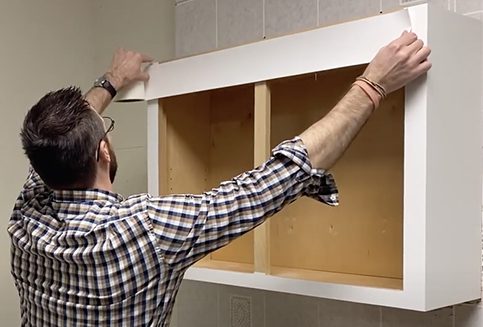 Keystone offers hands-on refacing training in a one-day class at our facility in Lancaster, Pennsylvania. Learn about:
Proven standard industry methods for surface preparation and veneer application
Options for corner treatment, end panels, and cabinet bottoms
Best practices for applying crown moulding
Touch-up techniques
Solutions to common problem areas
Training includes a workbook binder and our product ordering kit.
Click here for a Keystone Refacing Training Application.
---
PLEASE READ: We offer training to our wholesale customers and other qualified persons in the remodeling industry who wish to improve or develop additional skills in meeting the needs of their customers. Our class is not designed for homeowners or hobbyists. If you are a homeowner, please consult your local contractor. Thank you for your understanding.
---
CONTACT US TO SCHEDULE A
CABINET REFACING TRAINING SESSION

PO Box 10127, Lancaster, PA 17605
Toll-Free: 800.233.0289
Local: 717.299.6288
Fax: 717.299.9654
Email: info@keystonewood.com
---
Customer Service
800.233.0289  |  info@keystonewood.com
Call anytime Monday through Friday, between 7:00 am and 5:00 pm, and you will be greeted by a live, knowledgeable customer service professional.