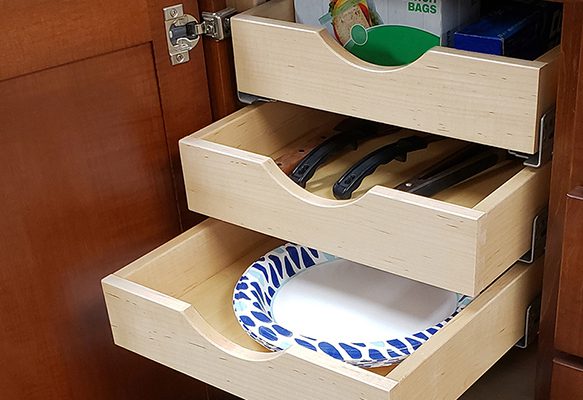 Pull-Out Shelves are a convenient way to organize cabinets in rooms such as kitchens, pantries and closets. By maximizing the available space within the cabinet, Pull-Out shelves increase storage capacity.
Keystone Wood Specialties Pull-Out Shelves utilize the X-Series Bracket System by Century.  Its simple design makes it easy to install. The flexibility of the system allows you to easily move the drawers to different heights without needing tools. The drawers can also be removed completely if a new layout is needed.
Our Pull-Out Shelves Feature:
Solid Wood dovetailed drawer boxes
Accommodates both undermount and side-mount drawer slides
Works equally well in framed and frameless cabinets
Installs in both new and existing cabinets
---
How to Measure for Pull-Out Shelves
Measuring for the correct pilaster size and drawer box width for Pull-Out Shelves can be confusing and mistakes can be costly.
To streamline this process and achieve accurate sizing, Keystone Wood Specialties has developed a Pull-Out Shelves Planning Tool.
(This planning tool is designed for use with undermount drawer slides.)

This planning tool includes measurements for using a drawer box with 1/2″ thick drawer sides or 5/8″ thick sides.
You can quickly see the amount of drawer side clearance you'll have based on the size of the pilaster you want to use.
The notches on the side represent the drawer track depths we offer, and will help you install the pilasters the correct distance apart.
By helping you determine your pilaster size and drawer clearance measurements, you will have the information needed to accurately calculate the width of the drawer box you need to order.
Learn how to use our Pull-Out Shelves Planning Tool
Download Pull-Out Shelves Worksheet
Download Pull-Out Shelves Order Form