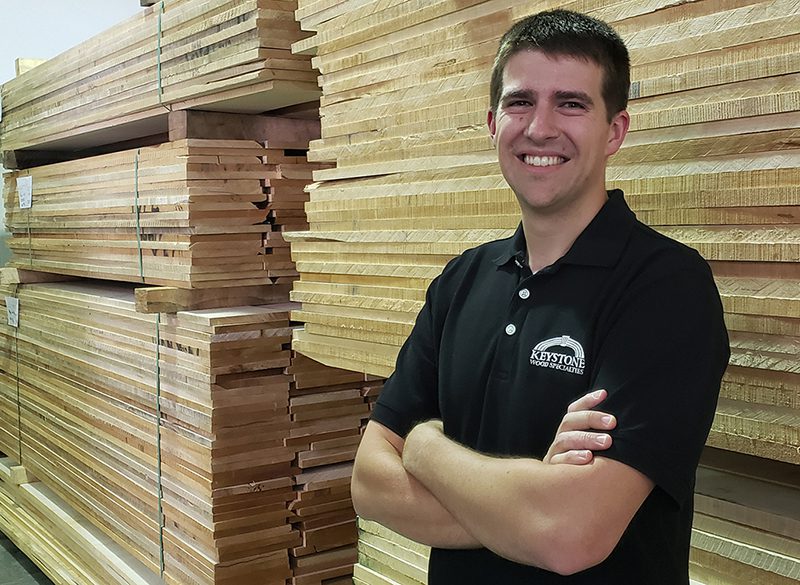 Keystone Wood Specialties is pleased to announce that Nick Stoltzfus, Vice President of Operations, has been named as one of the 2020 Wood Industry 40 Under 40.
This annual award is given by Woodworking Network and celebrates the next generation of industry professionals who are making an impact on wood products manufacturing in North America.
Woodworking Network Publisher Harry Urban comments, "It's always difficult to select the best of the best when it comes to judging the 40 under 40 nominees. In addition to building successful businesses and careers, the Class of 2020 was rocked by the COVID-19 pandemic, the biggest challenge most of us have ever faced. I applaud this year's honorees for their ability to keep their companies moving forward in the toughest of times while dedicating themselves to their communities and public causes. These are outstanding women and men who paint a bright future for our industry."
Nick's nomination letter illustrates why he was selected for this special honor.
***
"As the vice president of Operations for Keystone Wood Specialties, Nick Stoltzfus is helping to forge the future for his family's nearly 50-year old business," says his nominator. Founded in 1972 by Sam Stoltzfus, company president and CEO, and Nick's father, Keystone Wood Specialties has earned a reputation for manufacturing high-quality custom wood components, backed by personalized customer service.
Described as "an intelligent, calm and steadfast leader," the 32-year-old Stoltzfus has worked closely with his father to preserve the Lancaster, Pennsylvania-based company's "time-honored craftsmanship and work ethic, while incorporating new technologies and product lines that will lay the groundwork for success in the years ahead," says his nominator.
"Nick's thorough understanding of all aspects of the business is invaluable to the woodworking industry, most recently evident during the recent COVID 19 crisis," she adds. "His leadership during this challenging time saved jobs and ensured the company remained viable so that the many contractors, remodelers and cabinetmakers that rely on Keystone Wood Specialties' products could remain viable as well."
His nominator continues, "Nick's deep appreciation for the hard work that his family and the many long-term employees have put forth in building and growing Keystone Wood Specialties motivates him to ensure that this legacy continues."